NI drowned man's name released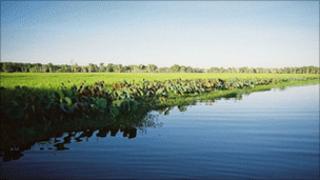 The Northern Ireland man who died after he drowned in a remote part of Australia on Saturday was Tony Norney.
The 27-year-old, who was originally from the Poleglass area in west Belfast, was travelling with a group of about 20 tourists.
He got into difficulties while swimming in a lake at the Kakadu national park in the Northern Territories.
His body was found on Saturday at the Malabanjbanjdju billabong after he failed to come to the surface.
Father Vincent Cushnahan, curate at the Parish of the Nativity in Poleglass, said there was a profound sense of shock within the community and a "reaction of sympathy" for the family.
"There is a deep sense of anguish and pain that such a young life was tragically cut short."
Swimming in the area is notoriously dangerous because of crocodiles. However police said there was no evidence a crocodile was involved.
Superintendent Louise Jorgensen from the Australian Northern Territory Police said Mr Norney was in a group of about 20 backpackers, mostly from the UK, many of whom were working in Darwin.
They had travelled to the park to enjoy a weekend there.
"Police were contacted at about 7.15pm. The man had gone for a swim in a billabong," she said.
"He went for a swim in an area which is known to have crocodiles, despite the fact that there were signs and he was not a strong swimmer.
"There were numerous people watching but they did not enter the water for fear of crocodiles."
Police and park rangers searched for the man for three hours and eventually found him.
She said investigations into his death were continuing.
"This is a very tragic death and we would warn people that these sort of accidents can happen," she said.
"We would ask people to take care if they are not strong swimmers, especially in water holes such as these which are renowned for having crocodiles.
"It doesn't appear that he was taken by a crocodile, just that he wasn't a strong swimmer and appears to have got into some difficulty."