Donagh abuse brothers 'need to move': victim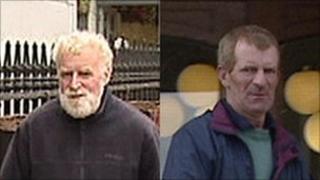 A man abused as a child by two brothers in Donagh in County Fermanagh has said he cannot understand why the men continue to live in the village.
James and Owen-Roe McDermott were allowed to return home in June after they were declared mentally unfit to stand trial.
The Western Health Trust has asked them to admit themselves for treatment.
The victim, who does not want to be identified, said it was a "dreadful situation".
"I hope somebody takes a pragmatic view of the situation and looks at it very, very sensibly," he said.
"It would be better for them, it would be better for their family and it would be better for the community.
"It would ease the pressure of a situation that is about to explode."
Limited options
At an open meeting in the village on Monday, the chief executive of the Western Health Trust said they had tried to remove the brothers from the community for their own safety after reports that stones had been thrown at their house - but their options were very limited.
It also emerged at the meeting that the two brothers have been placed in the lowest risk category of sex offenders.
Between them, four McDermott brothers, from Moorlough Road in Donagh, faced 60 charges of abuse spanning five decades.
John McDermott was jailed for nine years in June for the abuse, which was described as frequent, regular and persistent.
Peter Paul McDermott took his own life during his trial on abuse charges involving two young boys.
The other two brothers, James and Owen, were given lifetime orders banning them from being with children, and a two-year treatment and supervision order placing them in the care of social services.