Anglo Irish Bank in £6.7bn loss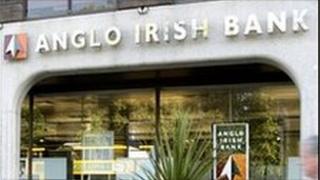 Nationalised lender Anglo Irish Bank has announced the largest corporate loss in the history of the Republic of Ireland.
The bank made a record loss of 8.3bn euros (£6.7bn) in the first half of 2010.
In March the bank reported losses of 12.7bn euros (£11.4bn) over 15 months.
The bank got into severe difficulty in 2008 following the sharp downturn in the Irish housing market which left it with substantial bad debts.
The loss includes loan impairment charges, which cover bad debts, of 4.8bn euros (£3.9bn) and a loss of 3.5bn euros (£2.87bn) after transferring 10.1bn euros (£8.8bn) worth of assets to the National Asset Management Agency.
NAMA was set up to buy and manage bad property loans held by the country's financial institutions
Government funding
The bank has stressed that international funding markets impacted its funding and liquidity position.
Anglo has said that after completing its loan asset transfers to NAMA, gross customer loans will be approximately 38.4bn euros (£31.5bn).
In a statement, Anglo Irish Bank Chairman Alan Dukes said he is acutely aware of its board's mandate to run the bank in the public interest.
Mr Dukes said liquidation of the bank had been considered, but that after detailed consideration the board had decided to split Anglo, which will mean winding down about 80% of the old bank.
However, the European Commission has the final say on Anglo's future, and it is likely the outcome will be known in September.
Because of losses in the period, the Republic's Finance Minister Brian Lenihan, and Anglo have agreed to a further recapitalisation of the bank to ensure its capital levels remain within regulatory requirements.
After several rounds of government funding this year, the bank said further capital will be required.
It said the amount needed is largely dependent on the future direction of commercial property markets, the performance of the economy and the level of discounts applied on the transfer of loans to NAMA.
The government's handling of the situation at Anglo is due to dominate a Cabinet meeting on Wednesday.