Belfast city centre 'Magic Jug' sculpture plan ditched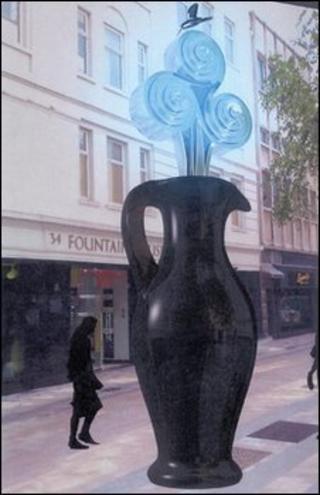 Budget constraints have caused the Department of Social Development to abandon plans to spend £100,000 on a 5.5 metre sculpture in Belfast.
Plans for the Fountain Street edifice, nicknamed "The Magic Jug", were announced last year.
Last week, the minister responsible, Alex Attwood, said that urban regeneration would suffer because of cuts in his budget.
It is understood that £20,000 has already been spent on the project.
It was originally given the go-ahead by Mr Attwood's party colleague and former Social Development minister, Margaret Ritchie.
However, Andrew Irvine of Belfast City Centre Management was a fan of the planned sculpture and said there had been logical thought behind its proposal.
"The idea was that it formed a line of sight down to the new public art in Arthur Square," he said.
"The different art pieces were drawing people around the city.
"There were technical reasons why the piece was chosen and why it was situated where it was to go."
However, Belfast-based artist Daniel Jewesbury welcomed Mr Attwood's decision.
He said the piece, which would have alluded to ancient Ireland, was "boring" and the location was the wrong place for public art.
Belfast has been a recent convert to public sculptures, many of which have received nicknames.
A sculpture on the banks of the River Lagan called the "Beacon of Hope" is affectionately known as "Nuala with the Hula" or "The doll with the ball".
The nearby fish is simply "the big fish".