Hoax bomb alert at bridge in Londonderry condemned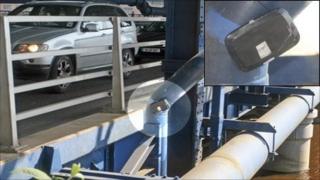 Police and politicians have condemned those responsible for a hoax bomb alert which brought most of Londonderry to a standstill for hours.
The alert began shortly before 1330 BST on Thursday when police received a report that an object had been strapped to a gas pipe on Craigavon Bridge.
The object was declared an elaborate hoax shortly before 2200 BST.
The city centre management is to discuss the introduction of CCTV cameras on the bridge.
The alert caused widespread disruption in the city with some motorists stuck in traffic jams for more than two hours.
The PSNI Area Commander for Foyle, Acting Chief Inspector Jon Burrows, said those behind the hoax had been intent on causing disruption.
"They know that there are only two ways out of the city to the rest of Northern Ireland - the Foyle Bridge and the Craigavon Bridge.
"This has been done many times before, so whenever they put these things on Craigavon Bridge they know it's causing massive disruption and they don't care."
'Traumatised'
The area commander said the most vulnerable in society had been made to suffer because of the selfish actions of a small number of individuals who have no support.
"It was the people who were stuck in ambulances who could have been very, very ill, needing to get to hospital.
"It was people who rely on carers to come and see them, to feed and clean them.
"The children who were at the school gates, many of whom were at their first day at school, were traumatised because their parents weren't there to pick them up.
"The people who did this are selfish and don't care about anyone but themselves," he said.
Sinn Fein Foyle MLA Raymond McCartney said the disruption would cost businesses in the city "thousands of pounds" in lost trade.
"I would like the spokespeople of those behind this alert to come forward and explain how this will in any way achieve a united Ireland," he said.
SDLP Foyle MLA Pat Ramsey said those responsible for the bomb scare had caused unnecessary distress to the people of Derry, who were "totally fed up with these types of incidents".
"They need to catch themselves on and let the people of this city live in peace".
Jim Roddy from Derry City Centre Initiative said city centre management was continuing to review its "CCTV technical abilities".
He confirmed that the introduction of cameras on the bridge would be "high on the agenda" during discussions at a major audit which is due to take place next week.