Tributes to Cranfield accident victim Stuart Wilson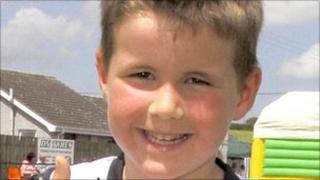 Tributes have been paid to the six-year-old Rathfriland boy who died after being struck by a speedboat earlier this week.
Stuart Wilson was being towed on a wake board at Cranfield beach when the accident happened on Monday.
His family have said they have been left "devastated" by his death.
They said they were overwhelmed by the prayers and support they had been receiving from the community in Rathfriland.
They said they were glad that their last memories were of Stuart doing something he loved with his family and friends.
"Stuart was a very out going child who loved football, outdoor activities and playing with his many friends," the family statement said.
Philip Vance, the principal of Iveagh Primary School, said Stuart was a "lively, talented, fun-loving boy".
"These are qualities that endeared him to all adults and, impressively, to children of all ages.
"He was very interested in the world about him and people enjoyed chatting with him," he said.
"Even though he was only six, he was sensitive to the needs of those around him and he coupled that with a lovely sense of humour and a smile that would light up any room and we'll all miss him greatly."
Rev David Somerville said Stuart would try to make him laugh during church services.
"Stuart was a real livewire, a lovely child, very engaging - you noticed him in a crowd.
"He was right in your face, he was up in front of you," he said.
"As I left church on Sunday morning I was shaking hands with people and I put my hand out to Stuart, he put his hand out, then whipped it away."