Error 'no bearing on Donagh brothers move' - Ford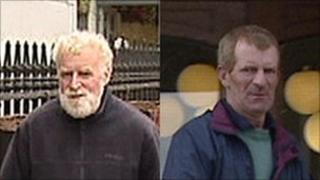 The justice minister David Ford has said a clerical error had no bearing in the decision to allow the McDermott brothers to return to Donagh.
A court official typed up a supervision and treatment order but left out the address where the brothers should live.
James and Owen Roe McDermott abused children in the Fermanagh village of Donagh over a 30-year period, but were judged mentally unfit to stand trial.
Mr Ford said he will write to the justice committee with an explanation.
His department has been dealing with the fall-out from a hearing of the committee on Thursday, where some MLAs blamed the blunder for enabling the brothers to return to Donagh.
It is believed the letter to committee chair Lord Morrow will state a court decided on the McDermotts residing in Donagh, based on advice received from a Western Trust social worker.
In July, a month after they were said to be unfit for trial, the brothers voluntarily admitted themselves to hospital for treatment.
Earlier on Friday, a man abused as a child by the brothers said their victims were being forgotten about.
The victim said survivors of the brothers must be kept better informed.
"If there was an error there and it was going to become public, I think us as victims are forgotten in all of this.
"Why couldn't it be brought to our attention before it is brought into the public domain to give us a little bit of time to gather our thoughts and prepare ourselves for what's coming," he said.
"This is not the first time that this has happened. I believe that the sudden public announcement when the brothers were moved out of Donagh was wrong, that we should have been given the information before the public."
The victim, who did not want to be named, said their return had added to the trauma of survivors.
He added: "I went through five weeks, from 18 June right through until 23 July, when these guys were in that village looking across at a children's play area when I had the equivalent of four hours sleep at night thinking about that.
"I relived own my horror and fear for others.
"If it emerges that could have been avoided, I'm going to be absolutely appalled."
James and Owen Roe were given lifetime orders banning them from being with children, and a two-year treatment and supervision order placing them in the care of social services.
Another brother, John, was jailed for nine years in June for the abuse, which was described as frequent, regular and persistent.
A fourth brother, Peter Paul McDermott, took his own life during his trial on abuse charges involving two young boys.