Nigel Dodds criticises vote change bill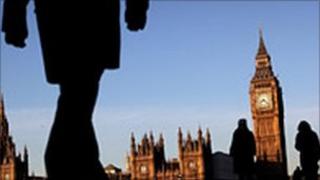 DUP deputy leader Nigel Dodds has criticised plans to reduce the number of Northern Ireland MPs.
He was speaking during a House of Commons debate about moves to change the voting system for Westminster elections and cut the number of MPs.
The bill passed its initial Commons stage by 328 votes to 269.
Mr Dodds claimed it was an ironic that David Cameron, "a self-styled unionist", wanted to reduce the number of MPs who represent Northern Ireland.
The North Belfast MP said any plans to change the shape of parliamentary constituencies would also have a knock-on effect for the NI Assembly which uses the same geographical boundaries.
He claimed the government had failed to consult with local parties.
Mr Dodds also said the referendum on a change to the voting system should not be held on the same day as next year's assembly election.
The government wants the referendum to be held on 5 May.
The plans are part of the bill that helped form the Coalition government in May.
'Think again'
The SDLP MP Mark Durkan said his party backed plans to change the voting system for Westminster elections.
However, he said the government must think again about moves to change parliamentary boundaries.
He said the change to constituencies would affect the Northern Ireland assembly and Deputy Prime Minister Nick Clegg had shown a "blatant disregard" to the views of local parties.
The Foyle MP said he had "serious reservations" about tying changes to the constituencies with reforming the voting system.
He said the government should separate the two issues.
However, he said it was right to scrap the existing first-past-the-post voting system and introduce the alternative vote method which he described as a fairer method.