DUP MP Nigel Dodds to step down from assembly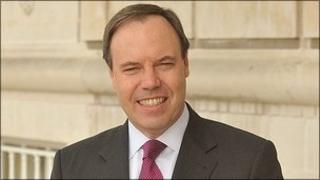 The DUP MP for North Belfast Nigel Dodds is to step down from the assembly within days, the BBC has learned.
While the DUP is phasing out dual mandates for MPs, it has emerged the SDLP's MP Alasdair McDonnell plans to contest next year's assembly poll.
During the general election DUP leader Peter Robinson promised his party would end dual mandates, with one exception.
Sammy Wilson, the finance minister, is likely to remain at least until the Executive spending plans are in place.
Over the summer, five of the party's MPs including William McCrea and Jeffrey Donaldson resigned their assembly posts.
Gregory Campbell, the DUP MP for East Londonderry, is expected to follow suit, though no date has been given.
Speaking on Wednesday, Dr McDonnell said his party was working towards ending double-jobbing, but he said he felt he could still serve in both Stormont and Westminster.
Dr McDonnell said: "I will be putting myself forward as a candidate and people will have an option of choice, to vote or not to vote.
He said that he was "very well able to cover both bases and people seem to like what I am doing".
Meanwhile, the SDLP MP for Foyle Mark Durkan will stand down from the assembly within weeks.
His successor will be chosen shortly from the candidates who have applied to stand in Foyle in next year's assembly election.
Sinn Fein, which has five double jobbing MPs, has no intention of phasing out the dual mandates before 2015, the date recommended following a review at Westminster.
The Alliance Party's East Belfast MP Naomi Long has already resigned as an assembly member.