Former Armagh GAA manager Joe Kernan declared bankrupt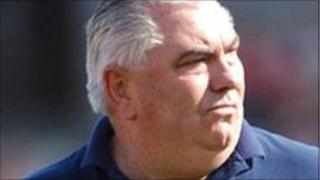 The leading GAA figure, Joe Kernan, has been declared bankrupt.
Mr Kernan led Armagh to their first All-Ireland Senior Football title in 2002 and more recently was in charge of the Galway team.
Away from his sporting involvement, he ran an estate agency and mortgage brokerage in Crossmaglen which he established in 1990.
That firm, Joe Kernan & Sons Estate Agents Ltd, has applied to be struck off the companies register.
However, two other firms which share the same address at Newry Street in Crossmaglen, were incorporated in July this year.
They are Joe Kernan & Sons Lettings and Management Ltd and Joe Kernan & Sons Property Services Ltd.
His wife Patricia and two of his sons, Aaron and Stephen have also been declared bankrupt.
The official bankruptcy notice were published on Friday.