UVF chiefs sanctioned 'public execution' says IMC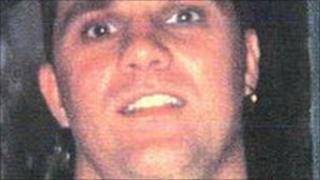 Ulster Volunteer Force (UVF) bosses sanctioned the murder of loyalist Bobby Moffett, although they were meant to be on ceasefire, a report has found.
Mr Moffett, 43, was shot dead on the Shankill Road, in Belfast, on 28 May.
The Independent Monitoring Commission (IMC) said it had been a "public execution" sanctioned by UVF leaders. They could have prevented the murder but did not, said its report.
Mr Moffett was perceived to have flouted UVF authority, the report said.
The IMC said: "There were two main reasons for the murder and the way in which it was committed: to stop Mr Moffett's perceived flouting of UVF authority, and to send a message to the organisation and the community that this authority was not to be challenged."
The report said a statement from the UVF in May 2007 committing itself to becoming a civilian organisation was "a major turning point". It noted that last year, it also took the step of decommissioning.
"The murder does not blind us to the progress the UVF has made hitherto or of itself mean that the process (of transformation) will be reversed.
"But it does call into question the reference in the May 2007 statement to becoming a civilian organisation and shows that when faced with what it saw as a challenge to its standing and authority, the organisation reverted to physical force."
The IMC said if Mr Moffett's murder was to mark the end of physical force, it would require "a more profound change of culture and attitude" from UVF leaders.
The IMC concluded: "The murder represents a serious backward step after a period when all paramilitary groups other than dissident republicans had moved decisively away from violence."
However, the IMC said it hoped the incident was a one-off, and the report did not recommend any sanctions against the UVF or its political wing, the Progressive Unionist Party (PUP).
In spite of threats not to attend, more than 1,000 people attended Mr Moffett's funeral, which brought the Shankill Road to a standstill.
'Brutal and shocking'
Speaking in the House of Commons, Northern Ireland Secretary Owen Paterson backed the IMC's decision not to recommend sanctions against the UVF.
Mr Paterson said the murder was "brutal and shocking".
"The conclusions of the IMC in respect of the behaviour of the UVF leadership are a challenge to the UVF leadership to renew their determination to deliver fully on their collective commitment to transform their organisation."
But SDLP leader Margaret Ritchie said the IMC's decision "sent out a worrying signal".
"Does that mean that a planned killing is to be regarded as par for the course and acceptable?" she asked.
"And of course, it begs the question what actually does constitute a breach of ceasefire by the UVF?"
Northern Ireland Justice Minister David Ford described the report as "worrying".
He said the UVF "now needs to make clear" that its ceasefire is genuine.