Prison officer stabbed at Maghaberry jail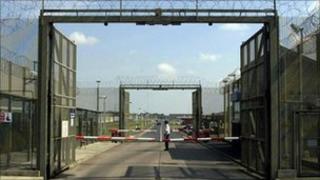 Police are investigating an attack at Maghaberry jail in County Antrim after an inmate stabbed a prison officer in the neck with a pen.
A number of other prison officers suffered minor injuries in the attack which happened shortly after 1100 BST on Sunday.
The injured officer was taken to the Royal Victoria Hospital. His condition is not known at this stage.
The Prison Officers' Association said it showed how dangerous the job is.
"This is part and parcel of a prison officer's job.
"This is a possibility that he faces every day in his working environment," the association's Finlay Spratt said.
"It's not really appreciated the work prison officers do and the type of volatile people that we have to work with."