Paper did not harass Wright piper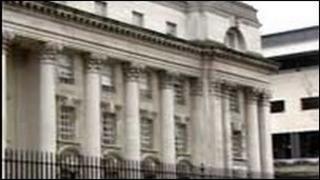 A man who played the pipes at loyalist Billy Wright's funeral was not subjected to harassment by a tabloid newspaper, the High Court has ruled.
However, a judge found that the Sunday World misused some private information in articles it published on Drew King.
Mr King had formerly been charged with murdering a Sunday World journalist.
The ruling banned publication of his address or certain information about his family life. A decision on any damages will be taken later.
The judge held that publishing the identity of Mr King's partner was in the public interest and that the use of a private photograph of the pair should not be restricted.
A decision on any damages to be awarded as a result of the case will be taken at a later stage.
Withdrawn
Mr King, 42, was one of three men to be formally accused of killing Martin O'Hagan, a Sunday World reporter who was shot dead near his home in Lurgan, County Armagh, in September 2001.
The murder charges against him and his co-accused were withdrawn in July.
He brought an action against the Sunday World for alleged misuse of private information and harassment.
Mr King, who has received notice of five death threats from loyalist and dissident republican paramilitaries, was also seeking an injunction to prevent publication of his address and other information about his family circumstances.
The newspaper defended the action, with its Northern Editor Jim McDowell claiming in court that Mr King forfeited his right to privacy when he became involved in the murder of Mr O'Hagan.
Mr King, formerly of Waringstown, categorically denied having anything to do with the killing, and rejected the Sunday World's description of him "as an LVF Godfather".
He told the hearing that he agreed to play the pipes at the funeral of Wright, the loyalist paramilitary leader murdered inside the Maze Prison in 1997, without knowing it would turn into a paramilitary-style procession.
No judgement
Mr Justice Weatherup noted that Mr King has not sued for libel, with financial reasons advanced for that decision.
The judge said: "I make no judgement on the truth or otherwise of those allegations which might in other proceedings have to be determined.
"But I proceed in noting there is an absence of challenge to the allegations that are being made in this particular action."
He set out the Sunday World's justification of a strong public interest in the investigation of alleged crime.
But based on the threats issued against Mr King, Mr Justice Weatherup ruled that his current or future address could not be published.
Although his partner could be identified, the judge held there had been a misuse of private information on other "peripheral details" about her place of work and family.
There was no justification for the disclosure of other information by the newspaper, the court found.
Dealing with the claim of harassment, the judge said: "Overall, on the question of whether or not this series of articles constituted reasonable conduct, I am satisfied that they did, and did not amount to harassment."