Board to decide on Team NI India trip after report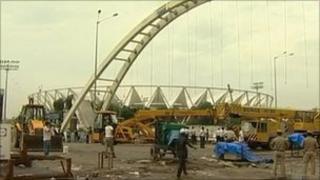 A decision on whether to send Northern Ireland competitors to the Commonwealth Games in India will be taken at a special meeting on Friday evening.
Eighty-one competitors from Northern Ireland are scheduled to travel to the games in Delhi on Monday.
Two NI Commonwealth Games Council officials have been investigating reports of poor conditions and safety concerns at the athletes' village.
The board will make its decision after taking advice from the officials.
Stewart Tosh and Terry Crothers from the Northern Ireland Commonwealth Games Council arrived in Delhi on Wednesday.
The council said the team's departure date remained valid.
However, its chairman, Robert McVeigh, said it would be a tough call.
He has been in discussion with Mr Tosh and Ms Crothers who have visited the facilities for competitors.
Mr McVeigh said the council could not be "reckless" in its decision-making, "just to satisfy the athletes".
"The initial impression was good, the international zone, the dining area, the food was good," he said.
"Transport lanes are in place, they had a brief look at the accommodation in tower block three, it looked acceptable, but needed a really good clean-up.
"What they have done is they have brought in managers from five star hotels to supervise cleaning teams.
"The one who Terry saw yesterday assured her that the accommodation would be clean by today."
Dame Mary Peters, who won a gold medal in the 1972 Munich Olympics, said athletes should go to the games.
"They want to go and compete and represent their country with pride. They have been working for years for the opportunity to represent their country. I think it would be very disappointing if officials took the decision to withdraw."
She said that there was "a lot of hype" about the lack of comfort and hygiene.
"The games that I went to... my first experience was at Cardiff and we lived in Nissan huts, we had army beds, we had tin lockers to hang our clothes in," she said.
"Nowadays, the athletes are very well prepared, highly tuned in and eager to get going. I think they will overlook any difficulties that are there."
Collapse
On Tuesday, at least 23 people were injured when a pedestrian bridge collapsed near the event's main stadium.
A section of false ceiling near the weightlifting area of the main stadium fell in on Wednesday.
In addition to fears over the safety of the venues, a number of teams described accommodation in the athletes' village as filthy, unhygienic and "unfit for human habitation".
There have been complaints that toilets were leaking and did not flush, while electricity supplies were either erratic or non-existent.
The England team have arrived in Delhi for the games after all 17 member sports agreed unanimously to participate as planned.
They will initially stay in hotels in the Indian capital before transferring to the Commonwealth village on Monday.
The Scottish Commonwealth Games team have confirmed their athletes are to fly out as planned to Delhi.
Wales announced their athletes will also travel to the games.