Belfast and Derry offer free events in culture night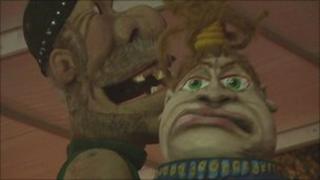 Belfast and Londonderry are showcasing a programme of free events as part of "culture night" on Friday.
It's the second time that Belfast has hosted the event which attracted more than 15,000 people into the city centre last year.
The programme includes free gigs, walking tours and interactive events in locations across the city.
It's Derry's inaugural event - the city will be UK city of culture in 2013.
The "culture night" phenomenon was inspired by European cities such as Reykjavik, Paris and Copenhagen.
This year Belfast and Derry are two of 20 cities participating in the north and south of Ireland.
The organiser of Belfast's culture night Kresanna Aigner says more than 15,000 peopled turned out for last year's inaugural event and they were hopeful of attracting an even bigger crowd.
"Last year was very much about beginnings, but this year is about expansion of the programme and indeed hopefully awareness of the event," she says.
"We are expecting huge crowds throughout the city who will eventually gather in the Cathedral Quarter for the final celebrations."
Stormont in a teacup
A behind-the-scenes look at events in Stormont with assembly members, "Stormont in a teacup", was packed out last time.
This year it will be staged at the Ramada Encore in Belfast city centre and will feature the SDLP's Conal McDevitt, Alliance MP Naomi Long, Sinn Fein's Barry McElduff and Basil McCrea from the Ulster Unionists.
There will also be walking tours including an alternative musical look at Belfast with veteran music promoter Terri Hooley.
In Derry there will be a fashion show on the historic city walls while crime writers writers Eoin McNamee and Stuart Neville will be speaking in the Central Library.
All events are free and will run until 2200 BST in venues and public spaces throughout both cities.