Murphy says attack on Britain 'a strong possibility'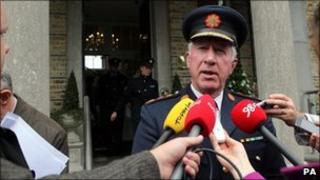 The Irish police Commissioner Fachtna Murphy said he believes an attack by dissident republicans in Britain is a strong possibility.
Commissioner Murphy said he agreed with the assessment of the Home Secretary and the head of MI5 that the level of threat from dissident republicans had gone from moderate to substantial.
He said that while the intent had always been there, the capability within dissident groups to carry out bombings had increased.
He said this was evident by recent bomb attacks in Northern Ireland, such as that on Newry Courthouse in February.
Commissioner Murphy said more than 50 suspected dissident republicans had been arrested this year and 22 of them had been charged and brought before the courts.
He said that while dissident republicans carried out shootings and bombings in Northern Ireland, they tended to use the Irish Republic for fundraising and logistical support.
Irish police believe that the dissident republican groupings comprise no more than 500 members, 150 of whom operate in small groups mainly in Dublin, Cork, Limerick and along the border between NI and the Irish Republic.
Last week, the Home Secretary, Theresa May, said the threat level to Britain from Irish-related terrorism had been raised from moderate to substantial.
She said it meant an attack was a "strong possibility".
It was the first time this threat level had been published, the Home Office confirmed.
The head of security service MI5, Jonathan Evans, had previously warned that dissident republicans opposed to British rule in Northern Ireland could strike mainland Britain.
On Tuesday, the shadow Secretary of State Shaun Woodward said the threat from dissidents is real and growing.
Addressing the Labour party conference, Mr Woodward warned the whole of the UK was at risk from a terrorist attack.
He also revealed there had been more than 30 attacks or attempted attacks by dissidents so far this year, compared to 20 in 2009.