Ryder Cup team ready to mop up at Celtic Manor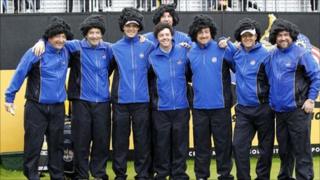 If the European team are to have a cutting edge at the Ryder Cup, then captain Colin Montgomerie knows they will depend on a good performance by the man dubbed the heir to Tiger Woods.
Rory McIlroy might be be playing in the competition for the first time but the man with the most distinctive locks since Miguel Angel Jiminez' ponytail is key to European hopes.
Yes, the past few years have seen him play such scintillating golf that many seasoned observers believe he has the game to be the best in the world and a multiple major winner.
But, just as importantly, he is bringing the fearless swagger of youth - evidenced by his bullish comments about his readiness to tame the Tiger.
His remarks have provoked a response from the US camp, with American captain Corey Pavin questioning their wisdom.
McIlroy 'may face Woods backlash'
As the storm began to brew, the practising European team put a metaphorical arm around the baby of their bunch by donning wigs which gently mocked McIlroy's own curls.
Captain Colin is not known for his sense of humour and the idea was clearly more than a bit of fun.
Matchplay golf can be as much about psychology as skill.
Who can forget Bernhard Langer at Kiwah Island in 1991?
Faced with a five-foot putt to tie the match and retain the trophy, the kind of putt the methodical German would have made 1000 times out of 1000 in practice, Langer missed.
When nerves can get to someone as mentally strong as Bernhard, then clearly the Ryder Cup is a place for strong minds.
Montgomerie, who himself has a superb Ryder Cup record as a player, knows this better than anyone and is carefully watching McIlroy and trying to ensure that his confidence stays strong.
When Rory said that none of the European team would particularly fear facing Tiger Woods, he was merely announcing what many of the team probably privately thought.
Since his well-publicised problems, Woods has not been anywhere near the player he was.
But as a man who is possibly the greatest ever, he should also command respect.
When told that McIlroy said he was looking forward to a match-up, Woods response was simple: "Me too."
If it is not a war of words, then it could be an opening skirmish in a coming battle.
Montgomerie will be aware of how Canadian Stephen Ames and Vijay Singh were both soundly beaten by Woods after making similar public pronouncements.
But he has been careful not to hang his young charge out to dry - opting for the wig instead of the hairdryer.
The captain will hope it is a masterstroke and come Sunday we will know - will McIlroy mop up or will Colin curl up and die?