Rise in demand for back-to-work schemes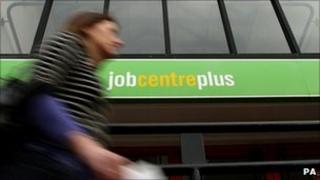 As the economic downturn worsens and more people are being made unemployed - back-to-work programmes are noticing a dramatic rise in demand for places.
The Steps to Work scheme run by the South Eastern Regional College has doubled in size in the past year to 200, and the same amount of people again - 200 are on its waiting list.
The waiting list is now five times as long as it used to be.
It tries to match the long-term unemployed with suitable work placements.
James Donnan, now a part-time gardener, at Mount Stewart on the Ards Peninsula had been out of work for ten years.
He found work after completing the 'Steps to Work' programme.
"When you were out of work, sitting at home in the house doing nothing and then you get the opportunity to get some work - it's brilliant," he said.
"It is very good and people are always complimenting how nice the garden is, saying 'you're doing a great job and it is really beautiful', and it is nice to hear that."
Before joining the course another gardener, Darryl Harvey had been out of work for two years.
"It gets you into the work place where you're going to maybe get a job at the end of the day," he said.
"You have to just work to get what you want to get in life, if you sit at home doing nothing you're not going to get anywhere.
"This course gives you hands on experience in the place you want to be.
"It's just changed everything for me, I have great motivation now to come into work and to go to work and I couldn't ask for more really."
William Greer from Steps to Work said the programme did not result in any cost to employers.
"The participant will be paid a top up, on top of their benefits and as well as that they get paid their travel," he said.
"They are in placement, they pay the top up through the college and there is no cost to the employer on having the individual on placement.
"There is an employer subsidy, so if the Steps to Work participant finds their way into employment with that employer at the end of the programme, there is a £75 per week subsidy which runs for 26 weeks."
Placements
The college has been holding information mornings for employers.
Paul Stewart is a garden manager at Mount Stewart. He said the scheme tries to match people with appropriate skills but said a lot of skills are transferable.
"We've had people work in the garden from construction backgrounds, from call centres, wide ranging types and it would surprise you how many skills actually are transferable," he said.
"The fabric of the garden always needs maintained and it is just a general ability to work with a team which is a good thing."
Three hundred and fifty employers in the north Down and Ards council areas are providing placements, but that is still not enough to meet demand.
Various colleges and groups run the 'Steps to Work' programme throughout Northern Ireland. Those out of work and those looking for workers are being encouraged to join it.