1990 Tyrone bookie Dessie Fox murder appeal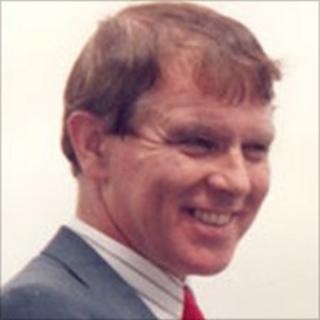 The family of a Dungannon bookmaker robbed and shot dead while on his way to the Curragh 20 years ago has issued a new appeal for information.
Dessie Fox was attacked on a road side in County Kildare on 30 September 1990. He was shot in the leg and bled to death.
The £20,000 he was carrying for his work as an on-course bookie was stolen.
Seventeen people were arrested at the time but no-one was ever charged.
Mr Fox was married with three daughters.
Speaking on the anniversary of her father's murder, Lorna Fox O'Mahony, who was 15 at the time, told a press conference at Irish police headquarters that it was "not too late" for potential witnesses to come forward.
"Even as a teenager I could see the respect, admiration and affection that people had for him," she said.
"He never had the chance to raise his family, grow older and enjoy retirement with my mum. I just loved being with him."
Mr Fox's white Mercedes was forced to stop by two other vehicles at Healy's Bridge in Prosperous in County Kildare.
At least two of the gang were armed, with both a revolver and shotgun used in the attack.
The raiders left Mr Fox on the side of the road, where he died from a severed artery.
More than 50 statements taken in 1990 are being reviewed by a cold case team.
Detective Inspector Ashley O'Sullivan told the press conference that people with information who felt they could not contact police at the time may have "changed circumstances" that would now allow them to come forward.