St Andrew's Agreement pledges 'need to be honoured'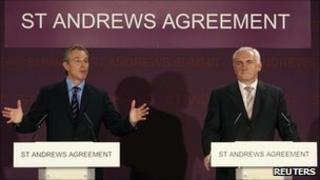 The St Andrew's Agreement should guarantee special status for Northern Ireland in the spending review, First Minister Peter Robinson has said.
It is expected to lead to a cut of up to £2bn in the Northern Ireland budget, up to 25% of its total expenditure.
Mr Robinson said cuts were inevitable but the government must honour the 2006 international agreement.
However, Northern Ireland Secretary Owen Paterson said circumstances had changed since the agreement was signed.
'Old commitments'
"You have to question whether Gordon Brown made a promise he couldn't keep - Gordon Brown got us into this mess as chancellor and prime minister," he said.
"He fought an election campaign himself promising cuts of about £44bn, so I think you do have to question whether the Labour Party, if it was in power now, could honour many of these old commitments."
Mr Robinson said: "If we get less money, we have to deal with less money, but it shouldn't stop us from saying, 'look, you did a deal; this goes beyond the Barnett formula'.
"This is one of the areas where the government should be upholding the arrangements that were made.
"It's interesting that the Republic of Ireland stood by the element of the financial package that was their responsibility."
Chancellor George Osborne will announce the details of his Comprehensive Spending Review on 20 October.
The St Andrew's Agreement paved the way for the return of power-sharing to Stormont the following year in May 2007, when former enemies Ian Paisley and Martin McGuinness became Northern Ireland's first and deputy first ministers.