Lawyer Joe Rice 'victimised' firm employee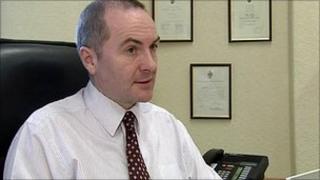 A prominent criminal solicitor has been ordered to pay more than £11,000 to a partner at his law firm.
An industrial tribunal found that Joe Rice victimised Yvonne McEvoy by paying her only the minimum statutory sick pay when she became ill in 2009.
It followed a dispute between the two over Ms McEvoy, a salaried partner specialising in conveyancing, being asked to do more criminal law work.
Mr Rice, of John J Rice and Co, said he would not comment on the finding.
He added that the option to appeal was still open.
His firm, which has operated since 1986, has represented high-profile clients including UDA police agent William Stobie and jailed solicitor Manmohan Sandhu.
The sum awarded to Ms McEvoy was £11,019, which, including interest, is made up of three months' net salary plus £3,000 for injury to feelings.
The tribunal heard evidence that Ms McEvoy specialised in conveyancing and had brought significant income to the firm during the years when the property market was doing well.
However, as the downturn impacted on conveyancing work, Mr Rice, who owns the firm, repeatedly spoke to Ms McEvoy about the possibility of her also taking on more criminal work.
The tribunal heard that Ms McEvoy believed she had been assured at the beginning of her employment that she would not have to do criminal work.
The prospect of having to do so made her "nervous".
In particular, Ms McEvoy, who was born in 1954, said she did not want to join the rota of lawyers who attended police stations to represent clients in custody, feeling that she was "too old" to begin such work.
Having had a series of meetings with Mr Rice on the issue, Ms McEvoy became ill with what was described to the tribunal as a psychological illness.
The tribunal agreed that she should have received full pay for the first three months of her sickness, deciding that the failure of Mr Rice to do so was based on the antagonism between them prior to her becoming ill.
It dismissed other claims made by Ms McEvoy, including unlawful discrimination on the grounds of age and sex.