Two arrested in Northern Ireland over Croydon shooting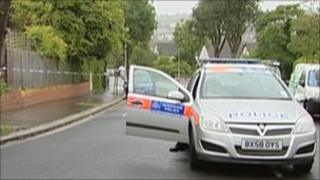 Police in Northern Ireland have arrested two men over the shooting of an unarmed police officer in south Croydon, London on 15 July.
The suspects, aged 20 and 26, were arrested on the Lisburn Road in south Belfast on Wednesday night.
A house was searched and a number of items were removed for examination.
The 26-year-old suspect is being taken back to London for questioning about the attempted murder. The 20-year-old is being held in Northern Ireland.
He is being questioned in relation to assisting offenders.
The policeman was shot in the arm while chasing three men in south London last Friday.
The constable was hit when one of the men opened fire in Kingsdown Avenue, south Croydon, at about 2200 BST.
His injuries were not said to be life-threatening. Two men, aged 21 and 22, were arrested on suspicion of attempted murder.
An 18-year-old was held on suspicion of causing grievous bodily harm.