Ministers meet the Muppets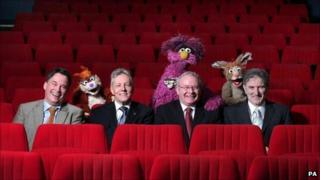 A sum-loving squirrel introduced himself as the latest inhabitant in Northern Ireland's take on Sesame Street.
Sesame Tree, the Belfast branch of the US children's TV show, unveiled him as the new resident as it launched its second series.
Teaming up with the Muppet stars of series one - Hilda and Potto - is Archie, a three-year-old squirrel who loves maths.
Named after Archimedes, Archie and the rest of the gang inside the gnarly Sesame Tree will be entertaining an even wider audience of youngsters.
Northern Ireland's First Minister, Peter Robinson, and Deputy First Minister, Martin McGuinness joined the Muppets on Tuesday to mark the new series.
"The show's success highlights the talent, flexibility, and variety that exists in our local Arts sector," Mr Robinson said.
"Sesame Tree and its core messages of respect and understanding is being heard and learned by those who matter most - our very young."
Mr McGuinness added: "Today our children must learn to play and grow up together in an atmosphere of respect and sharing.
Entertainment
"Sesame Tree aims to teach our children the best way to enjoy and understand the world they are growing up in."
The first run of the educational mini-documentaries was made for BBC Northern Ireland, the second is going out nationally on the children's station CBeebies.
Sesame Tree is produced by Belfast-based Sixteen South Television in conjunction with Sesame Workshop, the not-for-profit organisation behind Sesame Street.
The project is funded by the International Fund for Ireland and Northern Ireland Screen.
Sixteen South's founder and Sesame Tree's executive producer Colin Williams said he was "delighted the second series has been acquired by and produced for CBeebies".
"Bringing this second series to life has been a lot of fun," he said.
"The show is rooted in Sesame Street's approach to producing compelling educational content which helps children to learn and reach their full potential - along with great humour, wonderful new music and the sheer entertainment provided by our Muppet characters.
"I'm thrilled that Sesame Tree, which was made for and by the people of Northern Ireland, has been taken by CBeebies for broadcast to the whole of the UK.
"The programme continues to show contemporary life here in Northern Ireland and addresses issues such as respecting differences, sharing and dealing with new experiences such as going to school for the first time.
"These are things that are really important for young children not just in Northern Ireland but everywhere."