Spoof Cheryl Cole tweeter 'Cheryl Kerl' is from Belfast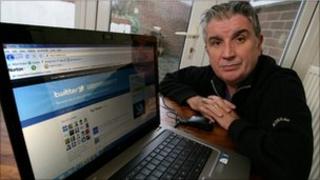 Cheryl Cole: 27 years old, born in Newcastle, successful pop artist... John Duffy, 53 years old, born in Belfast tweets as Cheryl Kerl.
"Yerz aw nut ganna beleev this, pet!" but a door salesman from NI is the man behind the spoof twitter account.
His tweets under the alias of the Girls Aloud star have made him famous and earned him nearly 47,000 followers in over a year.
If you are not familiar with Cheryl Kerl, her, (or we should say John's) pop princess worthy ponderings started out as a bit of a joke but now have a life of their own.
Mr Duffy said his tweets are not mocking the starlet but are a bit of a friendly spoof.
The father of two and former St Mary's CBS Grammar pupil describes Cheryl Kerl as "a bit like a ventriloquist's dummy" to allow me to write satirical gags on anything and everything.
But the fact that he sometimes tweets comments about the X-factor or showbiz events has confused people.
"I think it's important to say that Cheryl Kerl's really not about Cheryl Cole as such.
"It is sometimes quite funny to parody the real Cheryl's life through Cheryl Kerl, but it's never intended in a nasty or spiteful way towards the real Cheryl."
Mr Duffy, who now lives in Reading with his wife Grace and their children, had previously written for Terry Wogan's BBC Radio 2 Breakfast show for about five years.
"I was looking for a way to tie up my comedy writing to Twitter which at the time was really getting to be a hot topic and Cheryl popped into my head late one night," he said.
"In the best traditions of Viz comic I felt that if she tweeted in Geordie dialect it would be funnier and that really seems to be the hook that has made the character popular.
"People say that if they read the tweets aloud then they can speak Geordie and it's a tricky accent to do.
With famous comedians like Bill Bailey, Dara O' Briain, Alexander Armstrong, Ben Miller and Rufus Hound as followers "Cheryl Kerl" and her ponderings began to take on a life of their own.
"It really picked up in terms of followers during X-Factor last year then it was spotted by BBC Radio 1 DJ Greg James.
"He liked it and had some of the tweets voiced up by a production assistant on his show who is a Geordie, and then played them out on-air over a period of a couple of weeks. That generated a lot more interest.
"The next thing was I was put into touch with the man who became my literary agent, Jonathan Conway by former BBC news presenter Sue LLewellyn, who happened to follow Cheryl Kerl."
Mr Duffy said the chain of events illustrates the power of the micro-blogging site.
Back in June he began writing a book as Cheryl Kerl, entitled "Woath it? Coase Ah Am, Pet" as a nod to the singer's deal with a well known cosmetics brand.
So what does the real Cheryl Cole think of her tweeting namesake?
"She was actually given a copy of the book on-air by BBC Radio 1 a few weeks ago on the Sara Cox show," he said.
"She seemed quite relaxed about it and wished me luck, although she wasn't up to speed with who I am or anything like that.
In a surprising twist of fate there are rumours Mr Duffy could outsell the real Cheryl Cole autobiography with his book this Christmas.
"Creating the Cheryl Kerl character has turned out to be an amazing thing, as it has enabled me to acquire an agent and a publisher," he said.
"These are two very important elements for any writer to have in place, and it's now up to me to produce something really good for my next project.
"I'm currently working on a comedy novel and hopefully the first draft will be finished before Christmas - and if that goes well then who knows?"
Woath It? Coase Ah Am, Pet is published by Coronet and on sale now at £12.99.