Irish referees could cover Scottish strike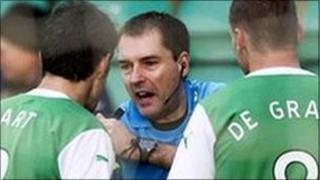 Irish referees could be asked to cover for their striking Scottish counterparts, the Scottish Football Association has confirmed.
Scottish football referees have voted to strike in protest at criticism from some clubs.
SFA chief executive Stewart Regan said he would source foreign match officials to reduce the effect of the strike.
"It could be the Republic of Ireland, it could be the Scandinavian countries. There are options," Mr Regan said.
"It will be expensive. It affects 20 matches, a huge number to cover.
"We sympathise with the refs because they've had a tough few weeks and they have been under massive scrutiny with challenges to their integrity."
As the Republic's domestic football season has finished, its top referees would be available to cover games in Scotland.
However, it is understood there has been no approach as of yet from the SFA to the Football Association of Ireland.
In Northern Ireland there is a full fixture list as the Carling Premiership continues, so its top referees would not be available.
Safety threat
Scottish referees have voted to strike in protest at criticism from some clubs. They claim their personal safety is under threat, both on the pitch and from fans following criticism over decisions made during recent matches.
Referee Dougie McDonald sparked controversy when he admitted to lying to Celtic manager Neil Lennon about how he and his assistant referee Steven Craven came to overturn a penalty decision for Celtic at Tannadice against Dundee United on 17 October
The SFA subsequently censured McDonald for his handling of the post-match administrative process, although McDonald has resisted calls, notably from Celtic, for him to resign.
As a result, some referees feel their integrity is being questioned excessively by factions within Scottish football.
On Monday, the Scottish Senior Football Referees' Association notified the SFA of their intention to strike on Saturday and Sunday, which would threaten the Scottish Premier League fixtures.