'Save our city centre' - Chamber of Commerce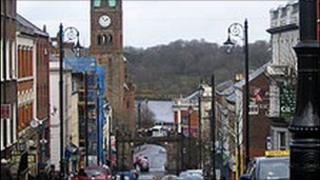 Urgent steps must be taken to ensure the centre of Londonderry remains a viable shopping area, the city's Chamber of Commerce has warned.
The body said the "unequal competition" between city-centre traders and out-of-town competitors must end.
It also said high rates and difficulties with car parking made it harder for the centre of Derry to attract shoppers.
Chamber President Jim Sammon said the centre could be "permanently blighted".
"Addressing the decline of traditional retailing centres must be a priority for our politicians.
"Lessons should be learnt from other cities and towns that have faced similar problems.
"Reading and Leicester both turned around the decline by allowing the construction of major new shopping malls beside existing retailing centres.
"This increased the size of the retailing centres, while also allowing additional car parking spaces.
"A similar innovative solution for Derry-Londonderry needs to be considered.
Mr Sammon said independent retailers should also be encouraged to open up shop in the city centre.
"Independent shop owners have always been the bedrock of retailing in our city centre.
"With an enhanced reputation for quality and niche specialisms, our city can make its mark as a retailing destination that supports the tourism offer at is at the heart of the City of Culture.
"We've had more than enough city centre retailers give up. Now is the time for more people to give it a go and set up shop. The City of Culture is coming."