Call to raise Northern Ireland school start age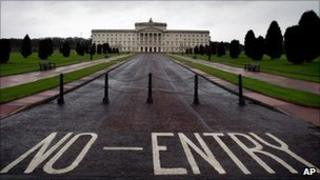 A teachers' union is to meet the assembly's education committee later in a bid to raise the age children in Northern Ireland start primary school.
Northern Ireland has the lowest compulsory starting age in Europe, with some children required to start school at four years two months.
Most European countries have a starting age of six.
The Association of Teachers and Lecturers has said parents should have more choice.
Mark Langhammer, the ATL's director in Northern Ireland, said there was evidence the early start in NI was disadvantaging some children, particularly boys.
"We have obtained data which shows that boys in Belfast are more likely to be referred to the Educational Psychology Service if they are among the youngest in their class," he said.
"There is also research indicating that children who commence school when they are very young may suffer academically.
"What we're asking for is a little flexibility in the system, which would allow parents to defer their child's entry where they feel this would be in their child's best interests."
Mr Langhammer will be accompanied at the meeting by a primary school vice principal, and two parents who found ways to delay their own children's school enrolment.
One of the parents, Roisin Gilheany, from Omagh, said she was convinced her son, Leon, was not ready for primary school.
Leon would have been four years and two months when he was due to start last September.
"He was just too young," she said.
"Leon was not showing the same level of maturity as his peers in his playgroup.
"They were all much older and as the year progressed his confidence was being affected.
"He had become withdrawn and I was concerned that sending him into P1 would have set him back even further.
"The benefits of another year in playgroup are already obvious. He is a much happier boy and he is actively participating in all of the group activities."
'Common sense'
Siobhan McQuaid, Vice Principal of Holy Family Primary School in north Belfast, said she wanted to be part of the delegation because she had seen the problems which can arise when children start school early.
"At our school, almost every year there will be one or two children starting in P1 who are just not ready for this transition," she said.
"Your heart really goes out to them - you just know they would benefit from another year in a pre-school setting."
The group believes a provision in the current legislation which permits education in a setting other than school, could be used to enable children to defer their school place, where parents believe it is in the best interests of the child.
"At an absolute minimum, we'd like flexibility to be extended to the very youngest children, along with those who were born prematurely and those with additional needs," Mr Langhammer added.
"At present, we have a rigid one-size-fits-all system which isn't serving the interests of every individual child.
"We're just asking for a little common sense to be injected where a parent feels strongly that their child isn't ready for formal education."