Hazel Stewart's double murder trial adjourned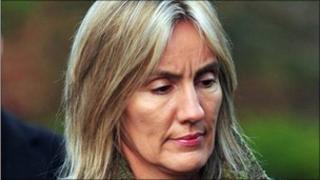 The trial of a Coleraine woman accused of murdering her then husband and her alleged former lover's wife has been adjourned.
Hazel Stewart, 47, denies murdering Trevor Buchanan and Lesley Howell in Castlerock in May 1991.
Last week her co-accused, 51-year-old former dentist Colin Howell, admitted the charges at Belfast Crown Court.
Mrs Stewart's trial was delayed to allow the defence to study a "lengthy statement" made to police by Howell.
Her defence lawyer, Paul Ramsey QC, said the trial would be unlikely to start before Christmas.
He said there was a "ferocious amount" of detail to be examined and medical and psychiatric records.
The judge, Mr Justice Anthony Hart, also told the court he would set the tariff for Howell's life sentence on Monday.
The bodies of the victims were found in a fume-filled car. At the time police believed they died in a suicide pact.
The case was reopened last year after new information was given to the police.