Huge rise in cost of substitute teachers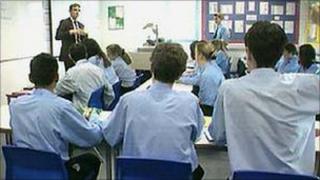 The costs of substitute teachers has increased by almost 75% in the past decade, a new report has found.
The document, published on Thursday by the Assembly's Public Accounts Committee, found that costs had risen from £38m in 2000-1 to £66m in 2008-9.
It also found that despite previous pledges to reduce days worked by newly retired teachers, the number rose.
The Department of Education said it welcomed the report and would consider the recommendations in full.
The committee's chairman, Paul Maskey MLA, described the rise in the overall cost as "clearly unacceptable".
He said that while the committee accepted that substitute cover was a normal part of school management, initiatives were needed to release money for other pressing education needs.
The committee's report also details its unhappiness with how schools record the reasons for requiring a substitute teacher, noting that there was "no standard method of recording".
It adds that a £1.1m payroll system, planned for implementation in 2005, was "still not fully meeting the management information needs of all schools".
Disappointed
The report also flags up the issue of re-employing teachers who retired early in preference to newly qualified teachers.
It explains that when concerns were previously raised with a Westminster committee during the direct rule era, assurances were given by the Department of Education that it would reduce the days worked by prematurely retired teachers.
Mr Maskey said that 2,500 newly qualified teachers were "desperately seeking opportunities" and that £6m could have been saved in 2009/10 alone if they had provided cover rather than retired teachers.
He added: "The committee is disappointed that the department did not show the will to ensure that any teachers who had benefited from enhanced settlements, in particular, were barred from subsequent re-employment as a substitute teacher.
"Clearly, the department must up its game in addressing sickness absence and in delivering high quality substitution cover through more effective management. "
In a statement, the Department of Education said that a memorandum of reply would be prepared for the committee's consideration.