If walls could talk... old Musgrave Street Police Station to be demolished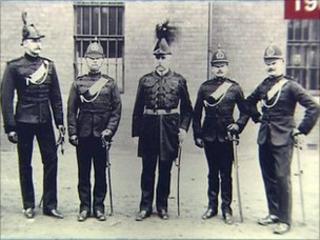 They look a sombre and imposing bunch, five senior officers in the Royal Irish Constabulary posing in Musgrave Street Police Station in Belfast as the 19th Century gave way to the 20th.
They form just one photograph out of dozens now on display there.
Belfast's brand new state-of-the-art police station had opened in December 1893, some months late, and a little over budget.
A mere 117 years later, many of the officers who served in it over the years have been wandering along its endless labyrinth of corridors one last time.
The station was manned by officers from two other forces, the Royal Ulster Constabulary, and the Police Service of Northern Ireland.
The brand new police station for the 21st century is getting its finishing touches a matter of yards away inside the same compound.
Once today's officers move in, the older red brick buildings are due for demolition early in 2011, to be replaced by a carpark.
In its time the old station saw riots, a police mutiny, and during the Troubles, bombs and grenade attacks.
Several officers based there lost their lives.
Poring over the old photographs and reminiscing about old times, former Chief Superintendent David Turkington found a picture of himself in 1980.
He went back on Thursday for one last look, 20 years after he last went off duty.
"It's nice to do a bit of reminiscing and talking about old times," he said.
"But at the same time there is a degree of sadness to see the old station going. It is the end of an era, and I don't know whether the new station will tell as many tales.
"If walls could talk they could tell you a lot more than I can tell you."
Outside of the station three police vehicles are parked together - two old grey armoured landrovers from the last days of the Troubles sit beside an armoured and unmarked Ford Cortina.
All of them have passed through the gates of Musgrave Street down the years.
The building will be demolished early in the New Year.
If walls really can talk, they had better start now.