Taxi 'driven over' family helping Dungannon stab victim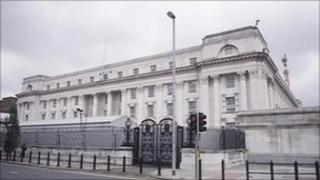 A father was stabbed and murdered on his daughter's 18th birthday, a court heard on Thursday.
The diplock court heard allegations that, as his wife and daughter were tending to the injured Eamon Hughes, 49, a hijacked taxi was driven over them causing serious injuries.
Four men appeared in the dock of Belfast Crown Court denying Mr Hughes' murder on 14 September 2008.
All four also deny attempting to murder Martina Donaghy and her daughter Emma and one charge of affray.
In court were Martin Murray, 23, from Windmill Drive, his cousin Liam Murray, 24, from Windmill Court, Kevin Toye from Windmill Court, all Dungannon and William McDonagh, 25, from Kew Gardens in Ballymena.
Kevin Murray, 41, from Lisnahull Gardens, also Dungannon and who is an uncle to the other two Murrays, denies attempting to murder Mr Hughes' son Kevin after he allegedly shot him with a crossbow bolt.
Opening the Crown case on Thursday, prosecuting QC Terence Mooney said the murder and attempted murders arose from an incident following a row between the Hughes and Murray factions at the 18th birthday party of Siobhan in the Irish National Forester's Club in Dungannon.
He described how, as the Hughes family and friends were walking to their house in the Lisnahull estate, a taxi containing the four alleged murderers pulled up and a confrontation ensued.
Martin Murray, the lawyer claimed, was armed with a knife, while Liam Murray had a bottle.
He said Martin Murray approached making apparent slashing movements with the knife and issuing threats to Mr Hughes' life.
'Enraged'
Mr Mooney told the court that witnesses in the case would testify they saw Mr Hughes approach Martin Murray who struck him in the chest and the victim then "collapsed to the ground".
Meanwhile the taxi which brought the four men to the scene had been hijacked and Mr Mooney said that it is the Crown's case, Toye drove it "at speed" at the mother and daughter, who were trained first aiders, as they were trying to help Mr Hughes.
He said Martina Donaghy could remember being on her knees beside Mr Hughes when "she heard a bang" when the car ploughed into them but that her daughter Emma could not remember being struck, only being aware of "lying some distance away...lying in a pool of blood".
Mr Mooney said that both women sustained severe injuries with Martina Donaghy sufffering a broken left leg, shattered right knee and a gash to her upper thigh.
Her daughter had both ankles broken, her left leg was fractured, her left knee was dislocated, there was a severe laceration to her head and injuries to her right arm and hand.
The lawyer said the court would infer from the defendants' behaviour that they had intended to kill the women by driving at them at speed.
Mr Mooney told Mr Justice Treacy that the state pathologist for Northern Ireland, Professor Jack Crane had examined Mr Hughes' body and found that he had died as a result of a single stab wound to his chest which had penetrated his heart.
The pathologist had found the wound was 4 - 5cm deep and said it was "unlikely that more than moderate force would have been required to inflict the wound, particularly if the blade of the weapon was sharp or the tip pointed".
"Enraged" at what had happened to his father at the hands of the "Murray faction", Kevin Hughes went to the nearby home of Kevin Murray and used a metal bar to smash the windows, the lawyer said.
Two factions
The court heard that a witness will give evidence that he saw Kevin Murray "sneaking up behind him...moving quietly and was hunched over, as if he were hunting" with his finger on the trigger of the crossbow and that he shouted a warning to Kevin Hughes.
The lawyer claimed that, as Kevin Hughes turned to run, Kevin Murray fired at him and the bolt hit his left arm and was still lodged there when Kevin Hughes went to paramedics who were trying to save his father.
When interviewed after their arrest, all four accused of the murder denied it.
Martin Murray refused to answer police questions and instead read a prepared statement claiming there had been no plan to attack anyone and that he was "in fear" of the large crowd when the taxi pulled up.
Liam Murray said there was a "verbal" confrontation between the two factions and that he was in the taxi when he heard "two bangs" and the driver said "I think I hit someone".
Mr Toye admitted driving the taxi but claimed he hit the two women "by accident", while McDonagh said he believed Martin Murray was "looking for a fight" but denied seeing a knife.
Mr McDonagh also told police that when he was in the taxi driven by Toye, it was "going fast" and that after the collison the others said they had "got" the victims.
Mr Mooney said according to the Crown evidence, their claims at interview were "self-serving" and were not consistent with the evidence police had gathered.
The trial, set to last until Christmas, continues.