Bangor Grammar School head in prep schools warning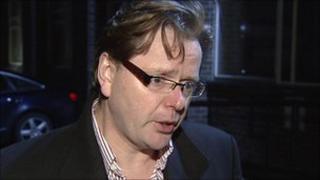 The principal of Bangor Grammar School has warned that other schools may face the same problems that forced it to plan the closure of its prep school.
Stephen Connolly said the decision to close Connor House next June had been forced by falling enrolment.
He said the school had tried to deal with the issue as quickly as possible and was sorry if parents thought the decision had been badly handled.
The school had 84 pupils in September with a top fee of just under £4,000.
Parents were told of the plans last Friday with some expressing fears that the school might not stay open until June.
"There is a real fear the school will actually collapse around this," said Gordon McElroy, who has two children at the school.
"Many of the parents are being told by the state sector that any places have to be taken up immediately."
He added that the Department of Education should make clear what it was going to do to help parents find alternative places and to aid Connor House in its "dying gasps".
Last year, the education minister Caitriona Ruane threatened to withdraw public money to prep schools completely before later backtracking and proposing to continue the funding at a reduced level.
In a statement, the Department of Education said: "The education minister's position on this issue has always been that funding of preparatory departments is an inequitable use of public money.
"Caitriona Ruane said she realised that ending the funding completely might cause difficulties for parents and possible disruption in some schools.
"She therefore decided to continue funding preparatory departments, but at a reduced level."