Belfast Metropolitan College job losses confirmed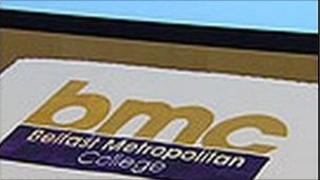 The minister for employment and learning Danny Kennedy has confirmed that Belfast Metropolitan College (BMC) could lay off as many as 168 staff.
The college sparked a row with unions last month when it announced that "over 100" people could lose their jobs.
However, unions said it had learned that the figure would be closer to 200 and possibly as many as 400 if part-time workers were included.
A Nipsa spokesman said unions hoped to mitigate the number of job losses.
"The unions are aware of the financial problems in the college and we are doing everything we can to work with the college to reduce the possible impact," Dooley Harte added.
Further meetings between BMC chiefs and trade unions are taking place on Tuesday, amid fears of further job losses on top of those already announced.
The college has said it hopes most of the redundancies will be voluntary.
Consultation
It is currently in the middle of a 90 day consultation period.
The lay-offs, which will affect all parts of the organisation, will be implemented within the next six to 18 months.
The college currently employs more than 1,000 staff.
The redundancies have come as the college has struggled with the impact of a deficit run up in each of the past four years.
An efficiency review was carried out at the college in 2009 by the Department for Employment and Learning.
BMC received criticisms in a wide range of areas and recommendations were made for improvements to ensure it has sufficient resources.
BMC has six campuses in Belfast.
Construction is well underway at a new site in the Titanic Quarter.
It is due to open in September 2011 and will replace outdated educational facilities.
A new building is also due to be constructed in north and west Belfast. It is scheduled to open in spring 2012.
Finance has already been secured for both projects.