10-year-olds 'gambling' in Londonderry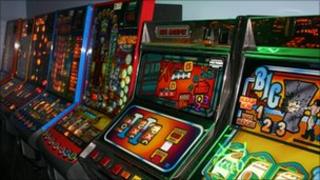 The mayor of Londonderry has called for tighter controls over underage gambling amid warnings that children as young as 10 are regularly placing bets.
Youth workers have also called for increased funding to stop young people becoming addicted to gaming machines and online betting sites.
Trainee youth worker Peter Nixon said every week he sees primary school children bet their pocket money.
"They get their three or four pounds on Friday and they fire it on a bet."
"You see them in the club going onto the computers to get the scores up.
"When I'm hearing someone at ten looking to check the scores to check a bet that's very worrying, but there's nothing being done to tackle it.
"I try and get them to realise how much they're spending and how much they've actually won, and you do get the odd one that says, 'Aye, you're right', but then they come in the week after with another bet on," he said.
The mayor of Derry, Colum Eastwood agreed it was "extremely worrying".
"The earlier people get hooked, the greater the risk there is for gambling problems in later life.
"I am calling on all business owners with gaming machines on their premises to verify the age of young people using these machines," he said.
"I would urge bookmakers to ensure adults are not placing bets on behalf of young children."