Students end sit-in fees protest at QUB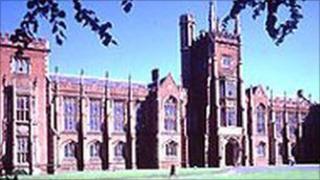 Students have ended a sit-in outside the vice-chancellor's office at Queen's University in protest at proposals to increase tuition fees.
About 50 protesters said they were seeking a meeting with Vice-Chancellor Peter Gregson.
One of those taking part, Gerry Carrol, said they wanted the vice-chancellor to "explain why he thinks students should have to pay £9,000 in fees".
QUB Students' Union said the protest was independent of any action by them.
Union president Gareth McGreevy said: "Queen's Students' Union acknowledges the right for peaceful protests and the choice to do so.
"This protest was independent of any action currently ongoing by Queen's Students' Union.
"Queen's Students' Union will continue their campaign as well as negotiating with politicians, the university, students and all stakeholders in relation to the current Higher Education funding debate."
The campaign group FEE (Free Education for Everyone) said it had organised the protest which lasted about three hours.