Thousands of litres of illegal fuel found in raids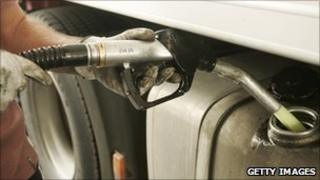 Thousands of litres of illegal fuel have been uncovered in two separate raids by customs officers in Northern Ireland.
A fuel laundering plant capable of producing two million litres of diesel a year was closed down in an operation in County Down and a filling station with more than 1,000 litres of illegal fuel was targeted in Country Antrim.
The raids were part of an ongoing operation to tackle diesel laundering in Northern Ireland.
More than 1,300 litres of fuel and 1,000 litres of toxic waste were removed from the County Down plant near Rathfriland on Tuesday.
Several pumps and other equipment were also found at the site, which is estimated to have avoided £1.2m in duty.
In a separate operation in Ballymoney, County Antrim two diesel pumps and 1,000 litres of fuel were discovered during a raid on a filling station on Wednesday.
The garage was selling diesel at a reduced rate of £1.18 per litre, according to HMRC.
Documents and records were also removed as part of the ongoing investigation into diesel sales from the filling station.
Mike Connolly, assistant director with HMRC Specialist Investigations, said the closures were good news for local businesses.
He added: "This filling station was operating at an unfair advantage over legitimate traders in the area by selling illegal fuel at a reduced rate.
"Legitimate businesses are already facing difficult times and it is wrong that they should be undercut by law breakers."
Mr Connolly urged motorists not to engage with illegal traders and also encouraged anyone with information on diesel laundering to contact HMRC.
He added: "Fuel laundering is unregulated and dangerous.
"The by-products from the laundering process can cause severe damage to the environment with taxpayers and local ratepayers having to pay for the clean up and disposal costs.
"Laundered diesel may save you a few pence at the pumps, but the true cost is far from a bargain.
"I encourage anyone with information about this type of activity to contact us on our Customs' Hotline 0800 59 5000."