Former soldier Burrage 'believed he had killed man'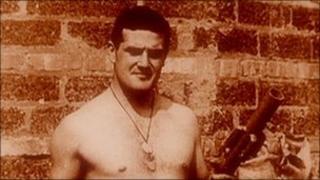 A former soldier has said for 39 years he absolutely believed he had shot and killed north Belfast man Michael McLarnon.
An Historical Enquiries Team report has concluded that Clifford Burrage did not fire the shot that killed Mr McLarnon.
It found that the 22-year-old had been shot by another Army patrol in the Ardoyne area in October 1971.
It also found that Mr McLarnon was an innocent man, not an IRA gunman as the former Lieutenant Burrage had claimed.
In 1975, Mr Burrage told the McLarnon family in a letter that he had shot Michael and in 2006 he appeared on the BBC programme, Facing the Truth, during which he asked the victim's sister for forgiveness.
Speaking to the BBC on Wednesday, Mr Burrage said he genuinely believed he had fired the fatal shot.
"Right from the start it looked so obvious to me - I was only 30 metres from him," he said.
The former soldier said the HET gave two reasons as to why he was not the killer.
He said he had fired from an upstairs window of a house which would have caused the entry wound of the bullet to be higher than the exit wound.
"In fact they were perfectly horizontal," he said.
Mr Burrage added that according to the HET, the occupants of the house he fired from where already aware Mr McLarnon had been shot when he entered.
"I never meant to mislead anybody and I sort of mislead myself obviously," he said.
Mr Burrage said he first contacted the family out of sympathy for the pain they were going through.
"I'd become a Christian and was just in a prayer meeting one evening and I just thought really of the pain and hurt of the parents and loved ones of Michael.
"I thought if I can do anything to ease that, then I would," he said.
"And I thought I'd write a letter - I knew it would be risky writing it, that anything could happen from it.
"But I thought I was going to do the right thing and I thought that was the right thing at the time and I've never doubted that it was."
He said he did not regret appearing on Facing the Truth, saying it was "a wonderful, valuable exercise because it was based on the truth as we then knew it".
When asked if he felt any great sense of relief he hadn't shot Mr McLarnon he said: "Not greatly no.
"It's so long ago now and life's moved on.
"The fact that I hear Mary (Mr McLarnon's sister) is delighted with the result, that is, as far as I'm concerned, the icing on the cake and it's good. In a way the whole thing's been a mistake."
However, he added: "If I never hear about it again that'll be fine."