Edwin Poots lifts Belfast City airport passenger cap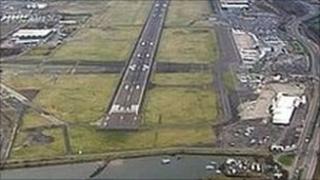 Environment Minister Edwin Poots has announced he will lift the cap on passenger numbers at George Best Belfast City Airport.
Mr Poots said he had decided to lift the limit of two million seats a year "after careful consideration".
The decision has been welcomed by the airport but there has been criticism from residents' group Belfast City Airport Watch.
The cap on total air traffic movements of 48,000 per year remains in place.
Proposals to lift the passenger cap were discussed at Stormont in October and the Environment Committee heard from residents' groups and airport officials.
Reacting to the decision, chief executive of Belfast City Airport Brian Ambrose, said it would contribute significantly to the local economy.
'Absolutely vital'
"The removal follows the airport fulfilling the requirements as set by the department with the installation of a noise and tracking monitoring system," he said.
"The planning agreement, which caps flights at 48,000 in any 12 month period, provides a balance between protecting the interests of residents whilst ensuring the airport can develop within these boundaries and continue to contribute significantly to the local economy."
However some residents groups, including the Belfast City Airport Watch Steering Group, have been opposed to any further expansion.
Liz Fawcett from the group said they were disappointed by the decision.
"The seat for sale limit is an absolutely vital way in which the airport is regulated in terms of noise, because it governs how many of the larger type ofplanes can fly in and out of the airport," she said.
Inquiry
"The minister is basically going against the environment committee at the assembly which said that he shouldn't make any decisions at this time.
"It's also flying in the face of people who submitted objections - is this really democracy?"
A public inquiry into the proposed runway extension at George Best Belfast City Airport was delayed in August amid a dispute over a noise pollution report submitted by the airport.
The airport wants to extend the north east end of the runway by 590m while retracting 120m from the south west.
However, residents are opposed to the extension, fearing it will lead to bigger and noisier planes using the runway.