Tommy Kirkham to appear at Alfredo Fusco murder trial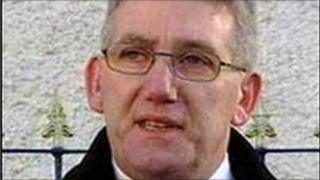 Newtownabbey deputy mayor, Tommy Kirkham, has agreed to appear before a Belfast murder trial.
A warrant was issued for his arrest after he refused to answer a witness summons.
It will not now be executed by police after he agreed to appear in court on Friday.
Defence lawyers in the trial of a convicted loyalist killer who denies the 1973 murder of Alfredo Fusco, want to question Mr Kirkham.
It is understood Mr Kirkham was a witness to the shooting.
Defence QC Frank O'Donoghue told Belfast Crown Court he wanted to "examine him about the identity of the gunman", and several other matters.
However, while it has been indicated that the deputy lord mayor is prepared to come to court, it is still unclear what evidence, if any he will give to the trial.
The court heard that earlier this week while refusing to come to court, he told police that the only thing he had to say was "the conflict is over and I will tell the judge that".
Mr Justice McLaughlin said while he was prepared to issue an arrest warrant it should be made clear to the deputy mayor that as a public representative he had an even greater responsibility to come to court.
Industrial accident
Mr Justice McLaughlin said he "just wanted to emphasise" the "complete and utter waste" of not only public money and police time, but of court time, his non-attendance had caused.
The man accused of the 1973 murder, Robert Clarke, 58 from Dundrod Road, Nutts Corner, County Antrim, claims he cannot be the gunman as he is unable to fire a gun having lost two fingers in an industrial accident years earlier.
His trial has already heard that despite his claims, he was later convicted of the sectarian drive-by shooting of 58-year-old Newlodge Road woman Margaret O'Neill in 1975.
Robert Clarke was arrested in August last year for Mr Fusco's murder after a review of the case by the police historical inquiry team.
The court also heard that Robert Clarke could not explain how his prints got on the door through which Mr Fusco was shot, but he maintained "he had not shot Mr Fusco".
He claimed that at the time of the shooting he had worked as a "door hanger" although he accepted he had not worked in the north Belfast or York Road area.