Failed Belfast apartment buyer to pay developer £67,000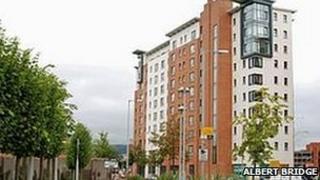 A man who agreed to purchase a Belfast apartment at the height of the property boom has been ordered to pay almost £67,000 for not completing the deal.
The High Court found that Paul Mulgrew should pay the difference between the price he agreed and the value now.
Fernhill Propeties Limited sued him for damages after he failed to complete on the flat at King Street in Belfast.
Two of the directors of Fernhill are Brenda and Gareth Graham, who control the Sean Graham bookmaking chain.
In April 2007, Mr Mulgrew agreed to buy the apartment at College Court off King Street for £186,000.
He paid a deposit of £18,100 in addition to an earlier holding deposit of £500.
When he was subsequently unable to obtain a mortgage and therefore unable to complete the purchase, the company sought damages.
It submitted an independent valuation which said that the apartment was now worth £115,000.
Mr Mulgrew was ordered to pay the net loss of £52,400 plus interest of 5% which accrued between July 2007 and the date of the judgement this week.
The developer had sought an order for 15% interest but this was rejected by the judge who said that 5% was a fair rate considering the variations in the Bank of England base rate during the period.
Earlier this year, the property firm's sister company Fernheath Developments took a similar case against a man and a woman over an apartment deal in north Belfast.
David Malone and his estranged wife Kelly Ann Flynn Malone were left with a bill of £89,192 after a Whitewell Road property for which they agreed to pay £162,000 dropped in value to £79,500.