Soldier accused of 'beating' wife at Lisburn home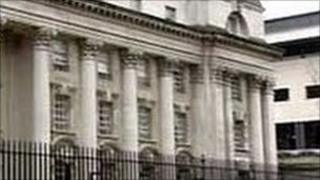 A soldier battered his wife before whispering in her ear "you have to die first", it has been claimed in the High Court in Belfast.
Brian Muyepa, 22, is alleged to have beaten her repeatedly and broken a bottle over her head during a drunken attack on New Year's Eve.
Police found her distressed and bleeding profusely at the couple's home near Thiepval Barracks in Lisburn, County Antrim, according to the prosecution. Mr Muyepa, who denies the assaults, was granted bail on Thursday.
It was claimed that Mr Muyepa locked the doors to the couple's home before launching his attack, although his wife has since withdrawn her allegations.
The soldier, a member of an undisclosed British military regiment, faces charges of assault occasioning actual bodily harm, false imprisonment, threats to kill, criminal damage, and being armed with an offensive weapon.
He was granted bail but ordered to live within the barracks and report twice a day to military police.
The court heard how the couple, originally from Malawi, had only recently moved into the property.
Nicola Auret, prosecuting, said it was alleged that Mr Muyepa returned home drunk and agitated before turning music up to deafening levels.
It was claimed he struck his wife's head with a bottle up to four times until it finally broke.
Further assaults were carried out before the woman allegedly bit his finger to get him to release the house keys, the court heard.
'Drinking'
Ms Auret claimed Mr Muyepa followed her out onto the porch, kicked his wife to the head and whispered for her to be quiet and get back inside.
The accused allegedly told her: "I know the police are coming for me, but you have to die first."
Although his wife has since made a withdrawal statement, the court was told neighbours had witnessed an attack outside the house.
Mr Muyepa claimed to have come home to find her angry and drinking before she smashed a table and crate of beer.
A defence barrister said the accused denied any assaults inside the property, and claimed the doors had not been locked at any stage of the incident.
Mr Muyepa's commanding officer was in court to give any assurances needed that he would be taken straight from custody to barracks.
Granting bail, Mr Justice McLaughlin also imposed a night-time curfew which would only be relaxed if Muyepa was ordered to carry out military duties.
Mr Muyepa was further banned from contacting his wife or witnesses in the case.