Housing Executive chief to meet Sinn Fein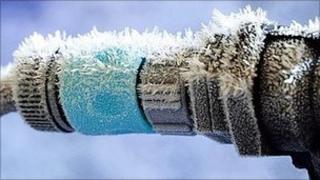 A Sinn Fein delegation is due to meet the chief executive of the Housing Executive later over his organisation's response to the water crisis.
On Wednesday, Stewart Cuddy admitted that the final bill for repairs to damage could top £10m.
Sinn Fein's housing spokesperson Fra McCann said the figure was "staggering" and warranted urgent investigation.
The party claims that some social housing tenants have had no heating or electricty since before Christmas.
It has called on SDLP Social Development Minister Alex Attwood, whose department is responsible for the Housing Executive, to provide "clarity" on what measures are being put in place to help those affected.
The thaw following unprecendented freezing conditions left thousands of people without running while many properties across Northern Ireland were badly damaged by flooding.
Questions
Mr McCann said: "The questions that apply to other government agencies also apply to the Housing Executive.
"What measures were put in place in advance of the adverse weather to give tenants the relevant information and assistance, why were elected representatives not immediately issued with an emergency contact number and what happens now to those tenants, many of them from socially deprived areas?"
Mr Cuddy admitted that his organisation had been "caught slightly on the back foot" by the initial scale of the problems.
"We have learned lessons from this clearly," Mr Cuddy added.
"What we did do is very quickly extended our emergency service capability - we relocated to a bigger building and we tooled up on the staff resourcing and the telephony and eventually we did get on top of it.
"But it was a very challenging time for us, our contractors, and no doubt our tenants as well."