Man jailed for Apprentice Boys parade petrol bombing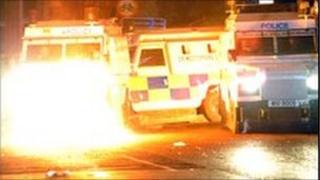 A Londonderry man who threw a petrol bomb at police during disturbances at an Apprentice Boys parade in August 2009 has been jailed for 12 months.
Stephen Aaron McFadden, 21, from Foyle Park, admitted throwing the petrol bomb in Fahan Street in the city, causing scorch damage to a police vehicle.
A judge said it should be known that it was almost inevitable anyone who threw a petrol bomb would go to jail.
He said the courts should deter people from throwing them.