Paterson: corporation tax move 'could help' NI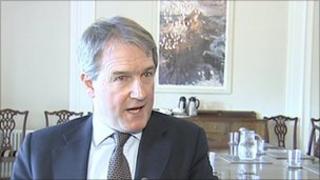 Secretary of State Owen Paterson has said a competitive rate of corporation tax would be a "huge help" in encouraging companies to locate here.
Mr Patterson said one option could be to gradually reduce the current peak rate of 28%.
"This wouldn't have to be done in one hit," he said.
"The sensible thing would be for the Executive to sit tight for a year or so and see how much revenue comes in, and then possibly phase it in.
"The Treasury has gone into this, in real detail and don't forget we have had a very difficult Autumn with the spending round and they have given this real time and consideration."
Last week a report by PricewaterhouseCoopers found low corporation taxes might not be a "magic bullet" for NI.
The report said that a cut in Northern Ireland's rate of corporation tax alone, is unlikely to attract significant volumes of fresh overseas investment.
On the same day the NI Economic Reform Group, which lobbies for the change, insisted a corporation tax cut would make a difference.
The economic body, which is pressing for a cut in corporation tax, has said it would attract more foreign companies to NI.