Four released after questioning over Irish pork scare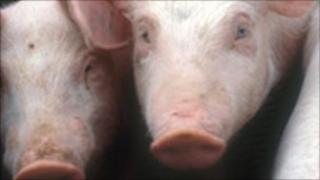 Four men arrested in Northern Ireland as part of an investigation into the 2008 Irish pork contamination scare have been released pending reports to the PPS.
The men were arrested in Counties Armagh and Tyrone while a fifth man was arrested in County Monaghan.
In 2008, all Irish pork produce was recalled from supermarkets in the EU as well as some world markets.
The scare cost pig producers an estimated 100m euros (£83.1m).
The recall was ordered after meal on a number of farms was found to have had between 80 and 200 times more dioxins than the recognised safety limit.
The pig meal had been contaminated during the manufacturing process which involved the use of an oil-fired burner.
Last month, O'Neill Fuels Ltd, in Coalisland, County Tyrone, was told to pay damages of 38.7m euros(£32m) to Millstream Power Recycling Ltd, Bunclody, County Wexford, in the Irish Republic.
Millstream was at the centre of the 2008 scare.
Millstream said the oil used, which was supplied by O'Neill fuels, had not been tested for dioxins such as polychlorinated biphenyls, (PCBs) because these had been banned in the 1970s.
O'Neill Fuels from Annaghmore Hill, Coalisland, had denied that any fuel supplied by it contained dioxins or PCBs.