Man charged with Londonderry police station blast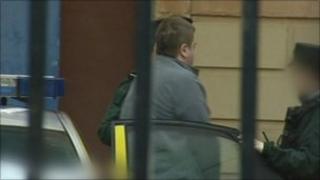 A 22-year-old student has appeared in court charged with causing an explosion outside Strand Road police station in Londonderry in August 2010.
Martin Eoghan McCloone, from Abercorn Road, was also charged with five other offences linked to the car bomb attack.
A detective constable told the court the evidence against the defendant related to mobile phone communications.
Mr McCloone denies the charges. He was remanded in custody and the case was adjourned until 20 January.
Londonderry Magistrates Court heard the defendant was also charged with possessing explosives with intent to endanger life, hijacking a taxi and falsely imprisoning a taxi driver, possessing a firearm and membership of an illegal organisation.
A detective constable told the court he believed he could connect Mr McCloone to the charges, but no forensic evidence was yet available.
Mr McCloone waved to members of his family who were in court as he was being led away.