85 new jobs at Dungannon meat plant Linden Foods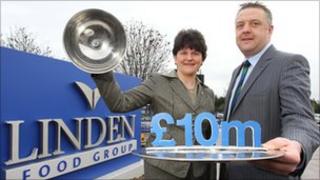 Eighty-five new jobs are to be created at a new retail packaging facility in Dungannon.
Linden Foods, which is involved in meat processing, has secured a £10m investment for the operation which will create the new posts over three years.
The 5,800 sq m building has received funding from Invest NI of £500,000.
Opening the new premises, enterprise minister Arlene Foster said that the food industry was a "key contributor" to the NI economy.
She added that the sector had shown impressive resilience to the economic downturn.
Gerry Maguire, managing director of Linden Foods, said that its business strategy remains focused on innovation.
"I would like to the thank all the organisations who have helped us secure and develop this site including the Northern Bank," he said.
Linden Foods anticipates that as a result of the investment the company will be able to increase sales by 32%, most of which will be in markets outside Northern Ireland.
Linden Foods was established in 1998 from the merger of Granville Meats, then owned jointly by Fane Valley and Ulster Farmers' Investments Ltd, and Milltown Meats based in Newtownards.
The company forms part of Linden Food Group which has a turnover in excess of £300m and employs 1,100 people on seven sites in Northern Ireland, the Republic of Ireland and England.