County Fermanagh fuel-laundering plant raided by HMRC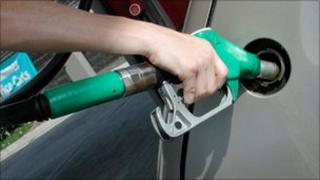 An illegal diesel-laundering plant in County Fermanagh has been discovered and dismantled by HM Revenue and customs (HMRC).
A man has been arrested in connection with the discovery of the plant on domestic property in the Derrylin area.
According to HMRC, the illegal plant was capable of producing more than half a million litres of illicit fuel a year.
It is estimated that could have amounted to £300,000 in lost revenue.
During the operation, HMRC officers seized a number of vehicles, including a cattle truck used to transport the illicit fuel.
Pumps, equipment and 3,000 litres of fuel were also removed from the site.
'Total disregard'
HMRC assistant director of specialist investigations Mike Connolly said fuel-laundering was dangerous and something the organisation took very seriously.
"We have dismantled a number of large laundering plants in recent weeks. These operations typically generate tonnes of toxic waste, which is often dumped in the countryside. On this occasion no waste was recovered from the laundering site," he said.
"There is also a risk to other road-users from the transport of laundered fuel. The vehicles used are unsafe and the dangers they pose to anyone in the vicinity show a total disregard for public safety.
"There is no benefit to the general public from this activity and every motorist using laundered or duty-rebated diesel as a road fuel, runs the risk of destroying their engine and having their vehicles seized. So filling up with fuel that is being sold at a cheap price could in fact cost more in the long run."
The man has been released on bail and investigations are continuing.