Conor Murphy criticises "political opportunists"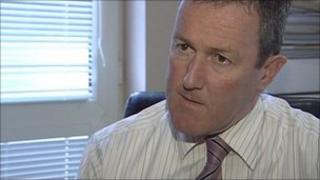 Regional Development Minister, Conor Murphy, has described calls for his resignation following the water crisis as a "cynical exploitation of people's misery and hardship".
Speaking to the Assembly Mr Murphy criticised "political opportunists".
He said some of his Stormont colleagues were more interested in seeking advantage, than properly understanding his responsibilities concerning NIW.
Around 40,000 homes had their water supply disrupted during the crisis.
The chief executive of the government-owned company, Laurence MacKenzie, resigned after his handling of the situation came under fire.
On Monday the minister addressed his Assembly colleagues for the first time since the water crisis and reiterated his apology to those how felt let down by the service.
But he pointed out that in August last year he had issued a direction to Northern Ireland Water to review and revise its plans for the supply of water in an emergency.
The minister rejected accusations that he had not taken his governance role seriously.
He said: "I have never ducked criticism or avoided questions."
Some MLAs have called on Mr Murphy to resign but a no-confidence motion did not go ahead on Monday.
Debacle
The Assembly's regional development committee chairman Fred Cobain asked when the minister was going to take responsibility for what he called "this debacle", while the DUP's Michelle McIlveen said Mr Murphy had appointed people to NIW who were not up to the job.
NI Water was severely criticised for its response to the dramatic thaw, which caused thousands of frozen pipes across Northern Ireland to burst.
Mr Murphy acknowledged there were "significant failings" regarding NIW's handling of the crisis and called for the Assembly's co-operation in bringing the arms-length body "closer to government".
A review into what happened has been set up, with the utility regulator set to look into the role of NI Water in the crisis.
The Office of the First and Deputy First Minister has asked two independent appointees to look at the role of Mr Murphy and his department.
Both elements of the review are expected to report back with recommendations by the end of February.