Mayor says 'device' caused explosion in Londonderry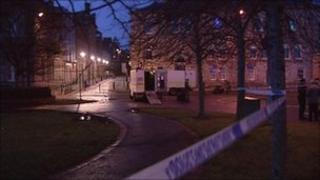 The Mayor of Derry, Colm Eastwood, has said he believes an explosion near Guildhall Square in the city was caused by a "device".
Army technical officers are at the scene of the explosion which happened in the Custom House Street area at about 0330 GMT.
The mayor said he believed it was an attack on the City of Culture offices, but added nothing had been confirmed.
"This city will not be held back, these people are in the dark ages," he said.
The BBC's Teresa Craig said there was a "heavy police presence" in the area which is sealed off from Union Hall Place to Waterloo Place.
The Manager of Derry City Centre Initiative, Jim Roddy, was at the scene on Monday. He said little damage had been caused to the City of Culture offices.
"I think it is ludicrous. People are trying to get to work this morning, but some other people think they shouldn't be allowed to go about their business," he said.
"What is important is that the citizens of Derry stand together and ensure that the very tiny minority who want to stop the city operating properly do not succeed."
The PSNI are asking anyone with information about the incident to contact them.